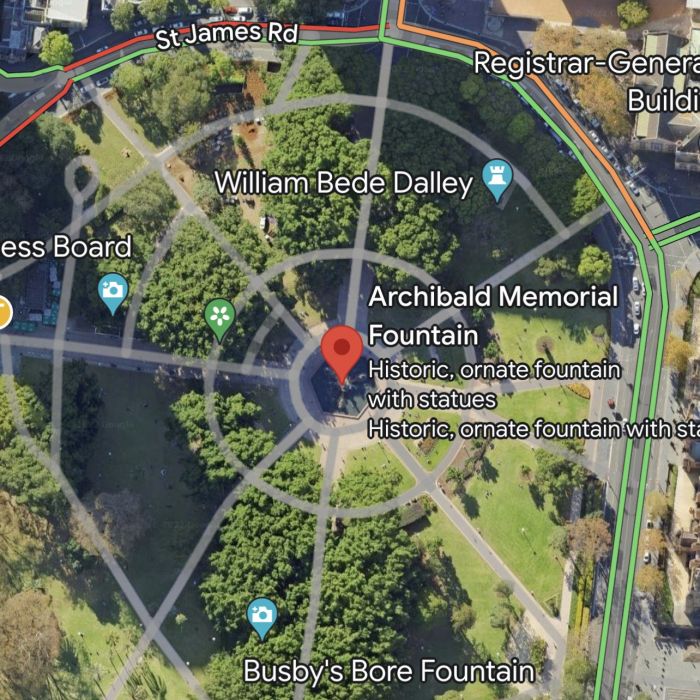 SATURDAY, NOVEMBER 5, 2022 AT 11 AM
The Archival Memorial Fountain, Hyde Park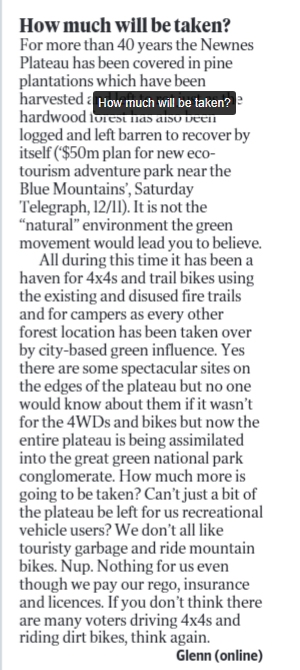 Must be something to what we are doing because the Daily Telegraph published my letter to the editor (see below).
So let's take advantage of it and lend some physical support….
Get your pens out or start typing and write a reply to it.  If you can add your support via a follow up post in the Daily Tele we might get some recognition from a journo willing to take on our cause.  Write/email your local politician and state your case.  Make it clear, concise and logical.  Add in how riding is a benefit to your health and well-being and that it's a great way to get kids off the damned PC and out of the house!  You know what to write, just don't be a knob.  We need to show that we are legal, smart, eco-aware and NOT eco terrorists!
Do it!   (PS, thanks guys!  We definitely ARE in this together!)
Published in Letters to the Editor, Daily Telegraph 20/11/21
How much will be taken?
For more than 40 years the Newnes Plateau has been covered in pine plantations which have been harvested and left to rot just as the hardwood forest has also been logged and left barren to recover by itself ('$50m plan for new ecotourism adventure park near the Blue Mountains', Saturday Telegraph, 12/11). It is not the "natural" environment the green movement would lead you to believe.
All during this time it has been a haven for 4x4s and trail bikes using the existing and disused fire trails and for campers as every other forest location has been taken over by city-based green influence. Yes there are some spectacular sites on the edges of the plateau but no one would know about them if it wasn't for the 4WDs and bikes but now the entire plateau is being assimilated into the great green national park conglomerate. How much more is going to be taken? Can't just a bit of the plateau be left for us recreational vehicle users? We don't all like touristy garbage and ride mountain bikes. Nup. Nothing for us even though we pay our rego, insurance and licences. If you don't think there are many voters driving 4x4s and riding dirt bikes, think again.